FTTH branch cable jumper SC LC FC is a kind of jumper assembled with FTTH branch cable, suitable for indoor and outdoor. This is the last 100 meters of cable in FTTH project. Widely used in panel, junction box, ONU TEC.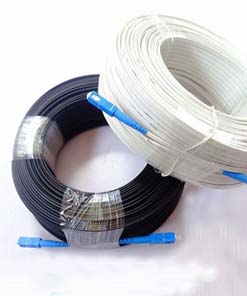 FTTH branch cable jumpers, pre-terminated with connectors at each end of cables, allow quick and easy insertion of cables into optical transmitters, receivers, PON boxes and other telecommunications equipment during construction of FTTH networks. This will reduce losses in the fiber distribution network and installation time in the FTTX project.
We offer high precision FTTH fiber branch jumpers for indoor and outdoor fiber network deployments. We offer different k-type cables with different terminal connectors, cables are flat, round and digital 8 according to the application requirements, connectors can choose SC, FC, LC, ST and so on with PC, UPC or APC polishing. Jera branch cable jumper consists of advanced connectors with ferrule made of zirconia.
Branch cable jumper can be produced in different lengths, such as 0.5, 1.0, 2.0, 3.0, 5.0, 100, 200 meters, etc. Cable sheath materials are PVC and LSZH two kinds, glass fiber core can be selected according to customer's different application requirements G652D, G657A1 or G657A2.
We are a direct manufacturer of optical cables and related accessories for indoor and outdoor FTTx deployment. All cables are verified in factory laboratories or third party laboratories. Inspections or tests include insertion loss and return loss tests, tensile strength tests, temperature and humidity cycle tests, uv aging tests, etc., which are in compliance with IEC-60794, RoHS and CE standards.
We provide all the related passive optical network distribution accessories, such as: fiber lead-in, FTTH fiber junction box, lead-in clip, FTTH lead-in hook, etc. Feel free to contact us for more details about this fiber optic branch cable jumper.
The solution for delivering fiber to the end user is called FTTH, which stands for Fiber to The Home. With the development of FTTH project deployment, FTTH is meeting the needs of the next generation of customers with affordable technology and many advantages such as more bandwidth, reliability and low cost. FTTH provides data, voice, and video information using only one optical fiber. According to this situation, in order to be better compatible with FTTH branch cable, a new connector -- SC FTTH connector, with UPC and APC polishing, has been well applied in FTTH project.